Description
Edit
The Teddy Butterfly has a pink, shiny body, with the bright green wings of a butterfly. Its wings have bright yellow spots on them, and its cheeks, stomach and inside of its ears are a dull white.
Background
Edit
The Teddy Butterfly first appears next to Tigerscorp, imagined sitting there by Shuff. It is later seen finally delivered by Zorch and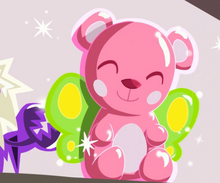 then Shuff throws it to the ground like a football and it breaks into pieces. Shuff then realizes what he just did, and starts crying.
Ad blocker interference detected!
Wikia is a free-to-use site that makes money from advertising. We have a modified experience for viewers using ad blockers

Wikia is not accessible if you've made further modifications. Remove the custom ad blocker rule(s) and the page will load as expected.