Niksput has all the charm and bravado of a leading man, but the brain of a banana! This dim-witted Orbiton with a sharp hairstyle likes to pretend that he's up for anything, and only realizes how scared he actually is when it's too late. So beware – Niksput's adjustable wings for high-speed flight combined with a total lack of skill mean that a crash landing is always likely!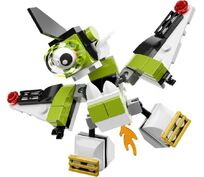 Ad blocker interference detected!
Wikia is a free-to-use site that makes money from advertising. We have a modified experience for viewers using ad blockers

Wikia is not accessible if you've made further modifications. Remove the custom ad blocker rule(s) and the page will load as expected.