The
Mountain City
, also known as the
Electroid Kingdom
, is a location in
Mixels Land
and city high up in the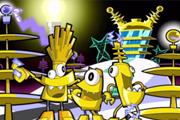 the mountains; Mixel Mountain to be precise. There are also tall buildings, power lines, and poles. It is home to the
Electroids
.
Mixels
Calling All Mixels
In Calling All Mixels, the Mountain City is shown as a giant dance club. The ground is lit light a dance floor with multicolored checkered panels. Large windmills are found around the area, which gives the city its energy. Strewn around the area are multiple stand-up arcade machines and subwoofers.
Trivia
The sun here is a giant lightbulb.
The reason the Electroids settled here was to be closer to the lightning storms.
Ad blocker interference detected!
Wikia is a free-to-use site that makes money from advertising. We have a modified experience for viewers using ad blockers

Wikia is not accessible if you've made further modifications. Remove the custom ad blocker rule(s) and the page will load as expected.