The Mix Festival is an annual event coordinated by all of the Mixel tribes. It was made to celebrate the power of the cubits, mixing, maxing, and to a lesser extent, murping.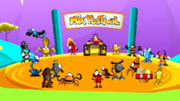 Background
Edit
Everyone is at the festival when Major Nixel ruins it with the Mega Nixel Mixel Nixer, but it goes back to normal after the Series 1-2 leaders (Gobba is there instead of Jawg, even though Jawg is the leader) save it.
Flain is the main host of it.
Ad blocker interference detected!
Wikia is a free-to-use site that makes money from advertising. We have a modified experience for viewers using ad blockers

Wikia is not accessible if you've made further modifications. Remove the custom ad blocker rule(s) and the page will load as expected.