Oh boy, oh boy, oh boy! I've got one muck!

This page is about a food or object found in the Mixels Land. It is considered canon in the Mixels franchise and may or may not be a mix of two real life objects.
The Mega Nixel Mixel Nixer was a complex piece of machinery invented by Major Nixel, in order to eradicate the Mixel species (and bring in the dawn of the Nixels) for good.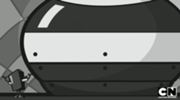 Description
Edit
The Mega Nixel Mixel Nixer existed in the form of a metal cloud. In order to be powered and float in the sky, a Nixel had to use an exercise bike. It then dropped a bomb that, when in contact with something, would turn it black and white. In the case of the Mixels (who became zombified), the bomb would turn them into a version of themselves that slightly resembles the Nixel species.
The invention also had the power to break cubits.
Background
Edit
In the Mixed up Special it was used for the first time.
When this was in use, Major Nixel came as close as he had ever been before to conquering Mixels Land.
It seems that Nixels are sacrificed in order to Nix up the Mixels.
The metallic cloud was first seen in Calling All Mixels, but it was used to trap Mixels instead.
Ad blocker interference detected!
Wikia is a free-to-use site that makes money from advertising. We have a modified experience for viewers using ad blockers

Wikia is not accessible if you've made further modifications. Remove the custom ad blocker rule(s) and the page will load as expected.