HOOGI is the slowest moving of the Spikels. This curious-looking member of the fun-loving tribe has giant fang teeth and is also super-affectionate, giving the biggest hugs with its lanky arms. Nixels creatures better watch out! While HOOGI walks as slowly as a zombie, getting grabbed by those spiky claw hands can be very painful. So you may want to avoid a HOOGI hug!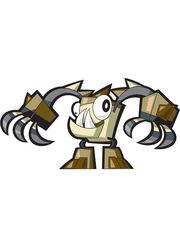 Ad blocker interference detected!
Wikia is a free-to-use site that makes money from advertising. We have a modified experience for viewers using ad blockers

Wikia is not accessible if you've made further modifications. Remove the custom ad blocker rule(s) and the page will load as expected.