Warning! This page is Cragster territory.

MIX! The page you are about to view has something to do with the Mixel tribe of Cragsters. The industrious miners known as the Cragsters live in a vast network of tunnels and caverns dug deep underground.
Digging is a sport and favorite past time of the Cragsters. Sometimes, they have competitions to see who is the greater "dig-dig".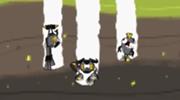 Seismo digs by stomping his feet, Krader using his giant fist like a spade, and Shuff by spinning his body like a drill.
It usually takes place under the Mine.
Ad blocker interference detected!
Wikia is a free-to-use site that makes money from advertising. We have a modified experience for viewers using ad blockers

Wikia is not accessible if you've made further modifications. Remove the custom ad blocker rule(s) and the page will load as expected.